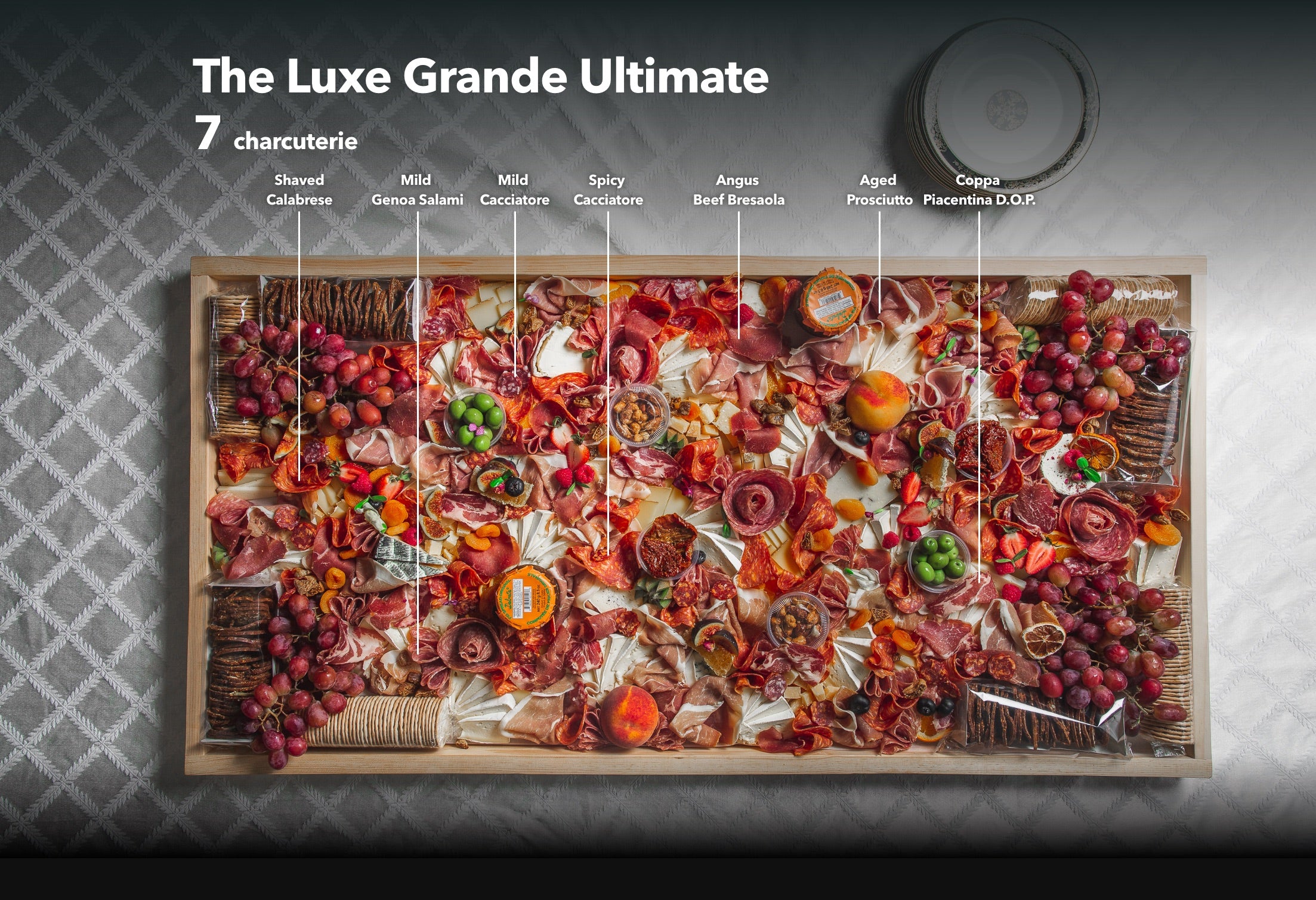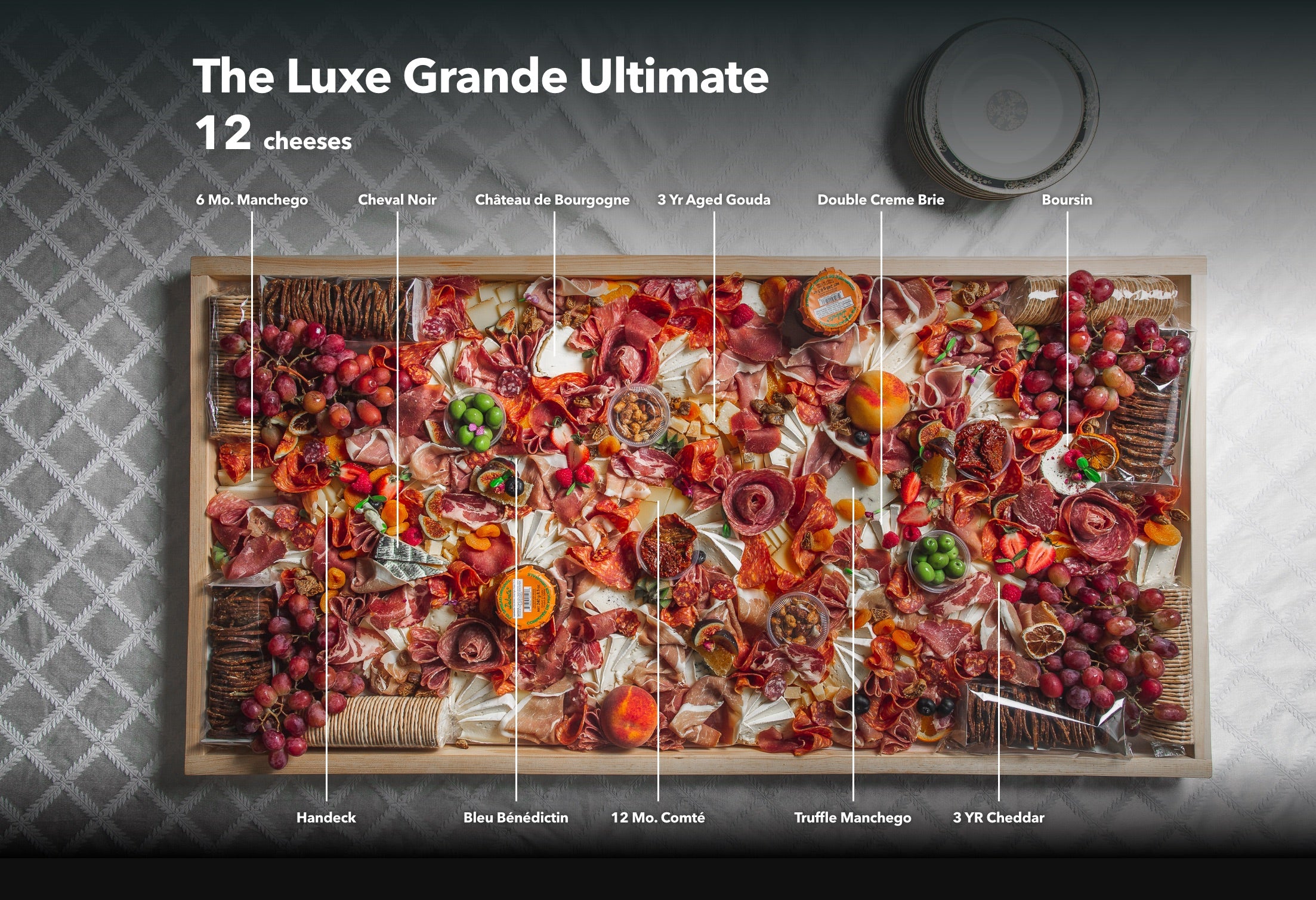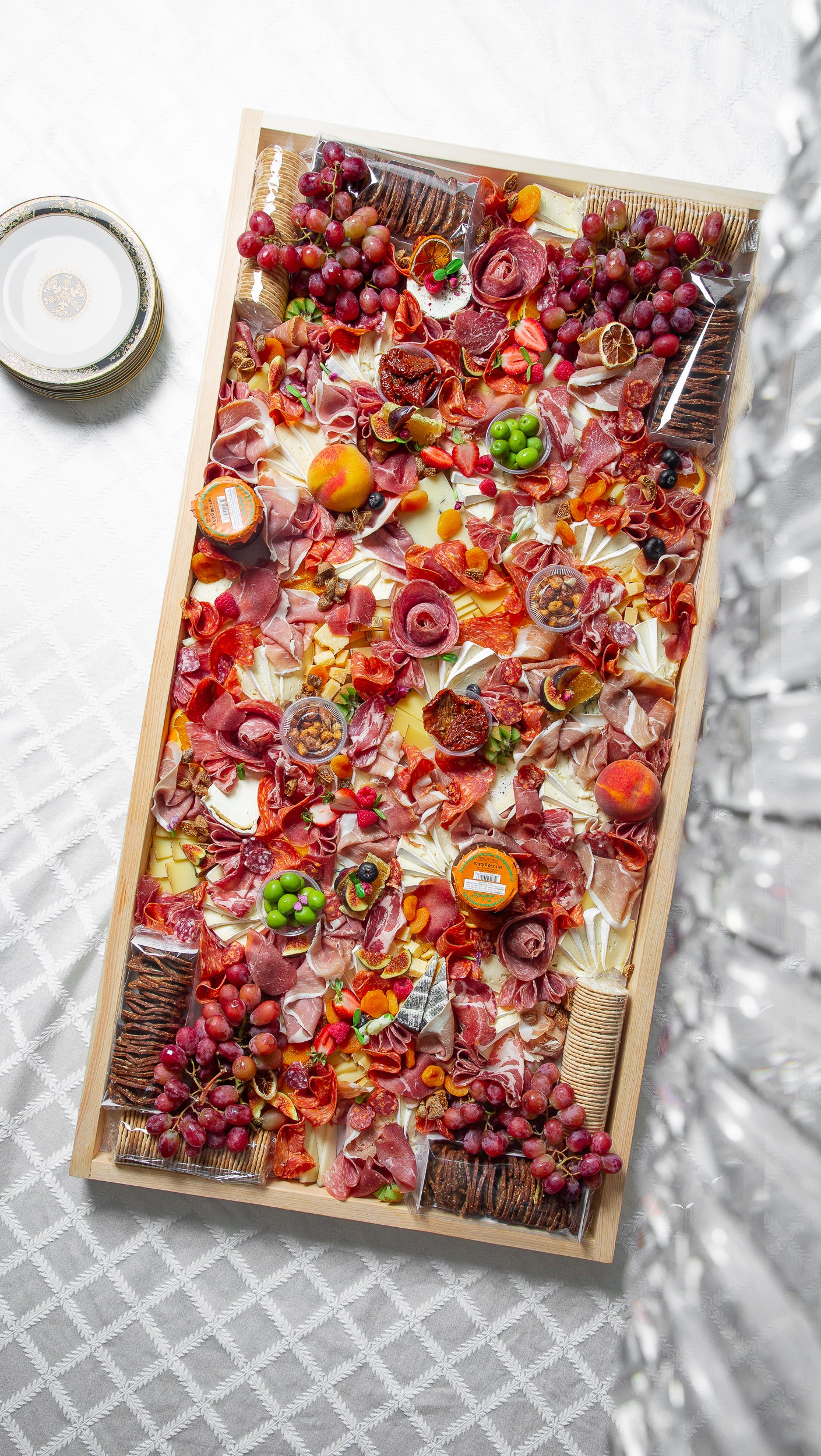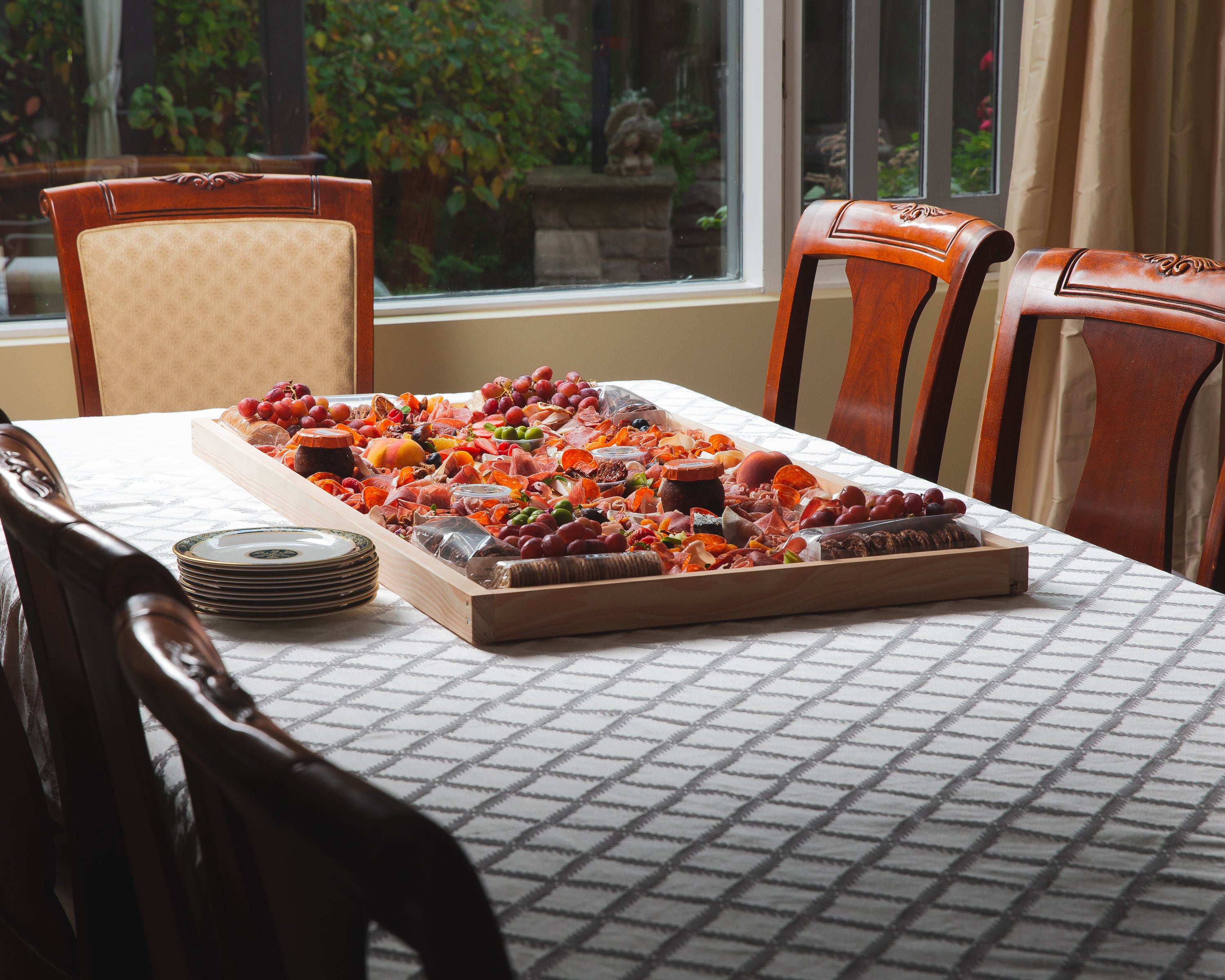 This charcuterie board was absolutely incredible... everyone was so impressed and kept asking me for your info. Thank you.
-K.S., Toronto
The Luxe Grande Ultimate Charcuterie Board (Serves 50 - 60)
COMPLETELY WOW UP TO 60 OF YOUR GUESTS. 
Featuring the most cheese and charcuterie we have ever put on one board so everyone has something to enjoy. Crafted with attention to detail, use this board when you absolutely need to impress your guests with an incredible charcuterie spread.
Size: 2ftX4ft  · 12 Premium Cheeses · 7 Luxurious Charcuterie
*We import only the finest ingredients, and as such they may be substituted for equally premium ingredients based on availability*

---
---
---
---
Delivery windows
Standard delivery (all locations)
12:00PM-5:00PM
Toronto - scheduled
10:00AM-12:00PM
12:00PM-2:00PM
2:00PM-5:00PM
All surrounding areas - scheduled
9:00AM-12:00PM
12:00PM-2:00PM
2:00PM-5:00PM
---
---
The Graze Anatomy is proud to have served:
New to The Graze Anatomy?
We elevate events.

Careful on-time delivery.
We handle all our own deliveries so your orders arrive on-time and exactly how they look in the photos.

Friendly customer support.
Get piece of mind and make sure your order is absolutely perfect. We are absolutely committed to providing you exceptional service. Feel free to contact us with any questions you may have.

100% Satisfaction Guarantee
As a brand we stand behind every charcuterie and grazing item that leaves our doors.
Frequently Asked Questions
Delivery Time: 11PM-6PM.

If you have a specific delivery time you would like for your order to be delivered, please contact us through the contact form or email us at info@thegrazeanatomy.com for express delivery options.

We offer free pick-up just a couple of minutes away from Lawrence and Don Valley Parkway.

Our rates are:
Charcuterie Boards Delivery in Toronto is $10,

Delivery to Scarborough, Etobicoke, Vaughan (South of HWY 7), Richmond Hill (South of HW7), Markham (South of HW7, West of McCowan) is $20.

Northern Vaughan, Northern Richmond Hill, and Northern Markham is $40.

Brampton & Missisauga is $50.

We will send you text message to let you know the ETA when the delivery is 15 - 45 minutes away. If you have any questions please contact us here
Can I deliver to multiple locations?

Yes, absolutely! We specialize in high volume delivery. Get our large order form, or email us at info@thegrazeanatomy.com to discuss your event.
Can I customize my order for dietary restrictions?

Absolutely you can! We are proud to say we cater to most dietary needs. Whether it is gluten-free, vegan, nut-free, vegetarian. Please let us know how we can make the perfect box for you!

Please note, our food is not prepared in a allergen-free environment.
How much notice is required?

We are proud to say we do same day delivery and pick up on our most popular items.

We offer same day delivery for orders placed before 10:00AM, and same day pick up for orders placed before 12:00PM.

If you have any questions please Contact us here
Can I eat the charcuterie the next day?

We make the boxes fresh daily, which means that it can be kept for up to 1 day if stored properly in a fridge / kept cool.

Having said that, you can contact us to keep the crackers wrapped for maximum freshness.
Yes! You can keep the boards after delivery. They are made from bamboo, and can be responsibly disposed of once you are done with them.
Our customer support is available Monday to Sunday: 9am-3:30pm.
Average answer time: 1-2 minutes by phone. 2 - 4 hours by email.
Hear from our previous clients.
This product has no reviews yet.
This product has no reviews yet.